Sorry Hong Kong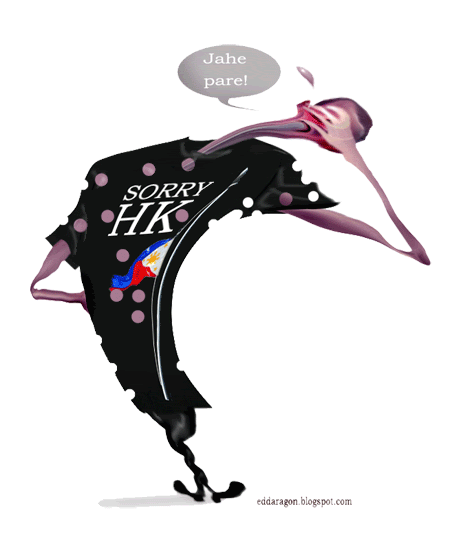 F
ilipinos in Sydney may seem not directly affected by recent hostage crisis in Manila compared to Filipinos who work in Hong Kong, but the unease is global and it is as if Filipinos are wearing daily a virtual black t-shirt with a sorrowful message.



Woe, it's me! If only I could give Jacky Chan a tight brotherly hug and not say anything at all, that would probably have sufficed. But no, that's only in my dreams. It would be futile despite sincere efforts of HK luminaries and government leaders to call for calm and sobriety. The Philippine media had clearly shown to the world via radio and tv the many opportunities that could have avoided those unnecessary deaths. And so here we are fenced in by strong undercurrent of rage and tendency for the people of HK to vent their frustration and ire on a..you've guessed it.
above (web photo)
But what can we do to express our great shame and sorrow? Not sure, really. Time shall heal everything so they say, but while we're on the hot seat it might be better to think of things to rectify things up instead of sulking and kicking ourselves dead, assaulted by images of what rightly should have been done.

Surely being caught with our pants down and exposed to international media is embarassing. Wha' happened? Did the pants' communication buttons snap? Zipper snagged? Or is that loose economic belt again that we've always known inutile to hold up our fig leaf? Call it wardrobe malfunction, the belt is useless for a nation's narrow waistline, its gut left hollow by previous administrations; where politicians failed to address the need of a well-equipped police force. Corruption as usual is the big C that started the rot. It's never too late.

Sorry HK!
Some people out of eagerness might choose to wear black t-shirts with Sorry HK printed and with a Philippine flag in halfmast underneath the letters.
It might be a good idea but maybe not as it might imply "t-shirt trivialization" of a truly sensitive issue and make things worse in HK.
Be Invisible?
Maybe invisibility is an option. Take the case of a Filipino woman in HK who was stalked and harassed by some guys asking
"Are you Filipino?"
to which she answered
"No, I'm Indonesian!"
They let her off.
But then if we're courageous enough to wear the t-shirt, make sure it is spit-proof-waterproof synthetic material. The law has tolerance for minor misgivings by a people untreated well and offended but let us not get in too close. Let the sax scream for we blew it.
The Power of Silence

Silence is another option as it is an age-old way of expressing sorrow (where sorry was derived from) despite possibility of being misinterpreted as uncaring. However the real issue here is the unnecessary loss of lives thus a long and solemn meditative silence would be appropriate show of respect to those who were killed. I believe in the power of prayer. Prayer works.

No words shall bring back those murdered. Silent printed words like articles and blogs might help heal the big, gaping wound in the hearts of the HK people and the Filipino nation. Let us not worry if we are made to feel guilty of homicide. We may not get off so lightly but let us keep a friendly hand extended. Oh man, it shall take a long period of "panunuyo" or "paglalambing" to those whose feelings we have gravely hurt, both as a nation and as individuals.

Pagpapakumbaba, paglalambing, panunuyo at paghihimas-himas (humility and childish and sincere cuddling up; for lack of better word) may seem to be feudal but they are tactile qualities Filipinos are known for. Hope we could weather the castigo (scolding) storm. We played the role of security guard that came ill-equipped. Be prepared, we are going to cop one big snob from the good citizens of Hong Kong. Let us just be wary of any external rage that may cross the line and transgress the law. Life is precious, and that's the reason for all this diplomatic mess.
Above image from this site.
Sorry is the order the day.When Kevin Rudd was our Prime MInister he said sorry to the Aboriginal people of Australia for the wrongdoings of the early white settlers. I swear I felt the deep solemnity of the ocassion.
above photo from this site
Almost couldn't bear looking at the tears flowing from the eyes of old Aboriginal people who attended the Sorry Day. The Australian people showed civility and decency to admit the errors of the past and they serve as inspiration for humility.
Australia's Sorry Day hits New York Times
(above image from this site)
America and Canada likewise have made efforts to mend relationship wtih their tribal minorities. Japan also apologized recently to the Korean people for colonizing it. Humility is truly a mark of character.
We could do the same as race of people albeit in our own, little individual way. Am actually trying to contact my photographer friend in Sydney who I haven't seen for years. Anson Chen is from Hong Kong and was owner of a photo shop studio in Sydney's Chinatown where I had 3 caricature shops running at that time. I'm so eager to say hello to him and express my grief.
For the time being, let's all keep our heads low. Thank you my friend. Peace.
(The National Sorry Day is an Australian event, held each year on 26 May since 1998, to express regret over the historical mistreatment of Aboriginal peoples. The day was chosen in commemoration of the Bringing Them Home report being handed to the federal government on 26 May 1997. It is not an official holiday, although there have been calls by some Aboriginal leaders to make it one. source: Wikipedia).