UFOs, Aliens, Mars, Moon, Morphs, Mona Lisa,Tikbalang, etc.
I'm an Alien!
(GIF file, frame-by-frame manual manipulation, no morphing software used. Liquify tool in Photoshop and ImageReady was really handy tho';
26 frames in total, each at speed of .07 sec.;
but don't tell anyone!
:)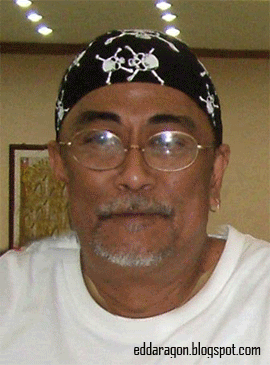 Yes people, I'm still at it, doing experimental GIF animations whenever time permits and obsessively taking on varied issues that may prove interesting. Thanks guys for your positive feedback; also to a theatrical artist in Manila who quipped old-school GIF animation still rules. Here are some of my latest, hope you like them.
UFOs in my backyard
The other day I was walking the dog with my partner at Falkland Crescent, a strip of nature reserve right smack in the middle of suburban Kings Park. It's just few meters away from where we live. At sundown she took some photos of me, one of them
a la contra luz
.
However there were some anomalies in the resulting digital photos,; the first one quite explainable because of the proliferation of PhotoShop/ImageReady;-) but the two others clearly showed 2 red UFOs.
"Edd, those are lens flares!"
she insisted; but I really didn't think so;-)
Have you heard?
Back in 2002, the British government promised to publish secret files (that allegedly proved the existence of UFOs) as part of a shake-up of its laws on freedom of information.
Eight years have passed before the British UFO archive was finally opened for everyone to access! Here's the link:
http://ufos.nationalarchives.gov.uk/
While before governments denied us free information about UFOs, now they warn us that the UFO files are too big and shall take time to download:) (PDF format, the largest is 53.7 Mb).
Meanwhile in America where UFOs have become a successful theme for entrepreneurs (e.g. t-shirts, movies and places like Roswell highlighted in tourist maps), a disclosure briefing is being prepared for President Obama who also promised to release America's own UFO X-files. (background music
Twilight Zone
..ti-ni-nu-ni-nu-ni-nu:)
Have you even heard of
Dr. Steven Greer's Disclosure Project 2010?
As of January 15th
Dr. Steven Greer (and Chantal Boccaccio) were reported to be putting together a package for a TV show involving UFO sightings captured on video but were never given any substantial explanation by the government despite obvious clues of extra-terrestrial origin. In these clips, Greer mentions briefing CIA directors (DCI) and work put together for President Obama. The question is the timing, why the synchronized disclosure now by this powerful nations?
(YouTube link below)
China likewise allowed reports of UFO sightings in it own television channels. Is it because it cannot be denied anymore due to numerous sightings, not to mention high levels of activity of the so-called Crop Circles. What about the astronomical alignment of heavenly bodies on December 21, 2012? Of legitimate NASA photographs of UFOs seemingly harassing the Space Lab, or the Mars Rover's photographs of ancient structures, of Moon Base towers and structures smudged out by NASA artists before public release?
The Disclosure:
Some of my best friends are aliens!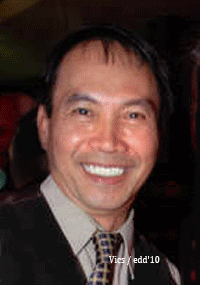 (Above)
Vics Magsaysay
is a U.S.-based fine photographer, artist, writer and alien.
(Above)
Pandy Aviado
, artist friend based in the Philippines. I've known
him for years as a UFO buff. We've exchanged UFO sighting news and photos of aliens.
(Above)
Most recent alien addition is
Claro Cortes IV
,
Filipino photographer based in Singapore. Claro is photo-editor
of Reuters Asia.
(Above)
Krip Yuson,
writer friend. The brilliant penman is an alien afterall.
Krip is also a member of Banggaan Artists Group.
(Above)
Tante Tagamolila
, Filipino engineer based in Chicago, USA. Took this
photo of him with his sketch in Boracay in 2008. Tante is also a Banggaan member.
Pump Up the GIF!
Tikbalang
(mythological horse-like creature of the Philippines). This was a remanipulation and remake of a classic GIF file (Nano-Mustang, creator unknown) which was visual punchline of a series of downsized cars. (GIF image below)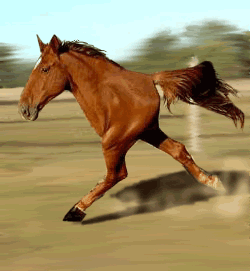 Mona Lisa's smile was made out of 40 paint layers!..
(and 7 layers to make an animated smile:)
It was my extreme eagerness to see Mona Lisa
actually
smile that made me do it:) but that was after reading
the news
:)
Back to aliens, according to the Disclosure Project held by the National Press Club in Washington in 2001, it was alleged (or revealed) that there are 57 species of aliens catalogued as of 1989, some species were described to be looking much like normal people.
(Youtube link below)
Struth!
Here are some of them:)
(Above)
MarioMorphosis
Banggaan art group member Mario Mercado sent us a photo of flowers he'd taken in the planet of Canopus Hollow which i then manually morphed into his caricature. Think he liked it:) Mario, a truly intelligent extraterrestial being is a US-based photographer, writer, artist, boxer and sharpshooter. He was a childhood friend of the late Filipino cartoonist Nonoy Marcelo. They grew up and honed their artistic flair together under one distant red star.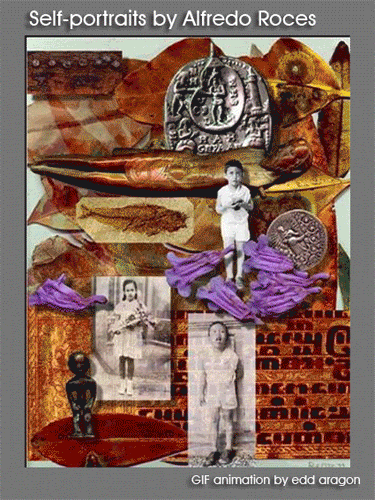 (Above)
Ding's self-portraits.
Alfredo (aka Ding) Roces
is one famous alien. An artist/writer friend who originally formed Banggaan art group back in 1995. He was so delighted with my experimental GIFs he asked if I could do him a GIF version of his self-portraits from 1952 to the present.
Ikaw pa?
(of course) I said. It's better to GIF than to receif:). It took me a few days to complete but had fun anyway morphing manually each transitory frame by using the
Liquify
tool in
PhotoShop
.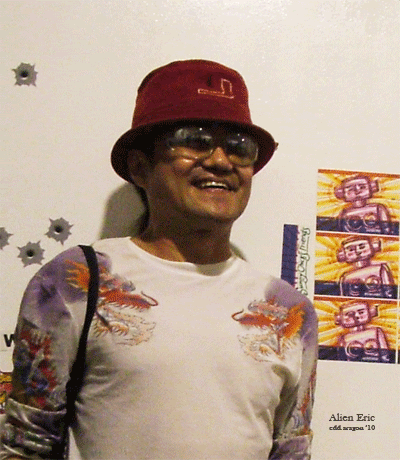 Eric David
, long-time alien friend in Sydney (80's) and is now Manila-based artist.
Eric is a remarkable graphic artist. I took this photo last year during his exhibit at a gallery at The Fort.
(Above)
Mel Vera Cruz
, another Banggero who recently celebrated his birthday. Did this for him, wishing may he Ever Last. Mel is a fine alien, an artist who also does tattoo. He is based in America.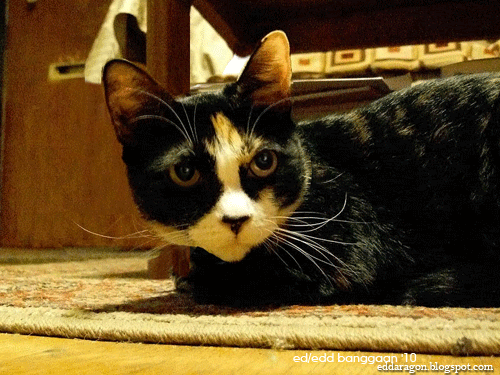 (Above)
Whiska
is alien pet cat of Banggero Ed Labadia. Had fun doing this using a cast of web-sourced mice.
(No animals were hurt in the making of this GIF animation:)
GIFs can be hypnotic, too.
Some UFO-induced visions:)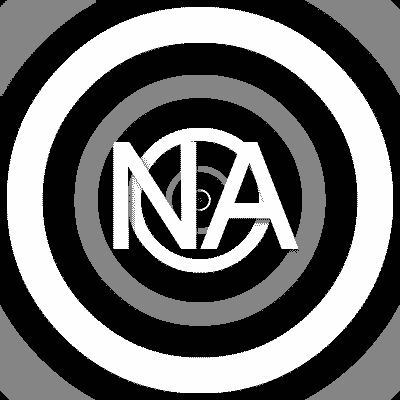 (Above image)
Nahihilo Ako
(I'm Getting Dizzy)
A Soldier's Cry
(I Got Hit/May Tama Ako)
What's the Buzz?
Well, mankind is said to be getting ready for a
Cosmic Awakening
,
the Disclosure
,
the Revelation
and/or
Truth
. Some claim that big changes shall happen in the next two years or so. Cool!
Beware the bearer of false gifts,
according to one alleged alien message derived and decoded from a recent Crop Circle
(YouTube link below)
. And most important, don't believe everything in the web:-)
However may we all please choose to be plainly entertained or amused by unfolding events, nothing more, for it is truly hard to judge things that are unseen, unknown and incomprehensible. Life's just too mysterious and full of magic. Magic just like us, for how can just mere flesh and bones be able to breathe and think? Life is universal as has been written in ancient scriptures, beyond earthly existence. Life therefore is one, encompassing aliens and homo sapiens.
Okay alien dudes, the show ain't over yet, I shall leave you some intriguing YouTube videos
(below)
. Careful out there. Trust no one. Never tell anyone:)
Mars Tubes and YouTube
Following are selected videos relevant to this blog entry:
This one is my favourite, really trippy;) Pump up the volume!